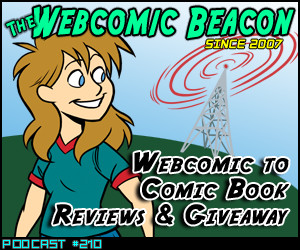 Gearing up for the 4th Anniversary Special and giveaway! We receieved a bunch of comic for review AND for the comic giveaway. So I decided to review (most of) them in a big video review! I'll do things differently in the future, but I was very pressed for time for getting this out in a timely manner for the review. So please check out the reviews and check out their websites, and sign up to win!
There is a podcast version of the show available, but here are the video to watch as well!
HOW TO ENTER (Multiple entries allowed!)

You can draw us a usable* "Becky Art" that we can use for the cover for a future episode. Multiple entries allowed, per art (up to 5).
Leave us a useable* voicemail at 320-310-0922 (or email us an MP3), with a question or comment or criticism for and/or about ANY of the programs on The Webcast Beacon Network. Multiple entries allowed (up to 5).
Leave a short voicemail or email telling us why you like listening to The Webcomic Beacon (or any of the programming on The Webcast Beacon Network)! Limit (1) Entry.
Sign up for the Webcast Beacon Referral Program and get an entry. Then use a custom link to get people to the site, and get an entry for every 10 referrals!
What we have for giveaways, SO FAR:
Theater Hopper – 3 year collection of comics as 3 large, softcovers.
►All Three Books As One Prize
Bittersweet Candy Bowl – The first collection, in 1 large hardcover.
► As A Single Prize
Doc Rat – Volumes 6 and 7, softcovers.
►Both As One Prize
Zombie Ranch – First comic book issue. Signed.
Demon Graphics – First comic book issue collection.
Variables – The first issue.
►All Three As One Prize
[display_podcast]
Podcast: Play in new window | Download