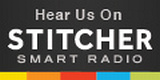 You can now hear our shows while on the go with Stitcher SmartRadio! On demand News, Talk and More on your mobile phone. The latest episode is always available for you- no syncing needed… and no memory or storage wasted! Available on your iPhone, iPad, Android phones and beyond. Downloading is easy, go to Stitcher.com or check out your app store.
Add us to your Stitcher:
The Webcomic Beacon & Newscast | First Issue | Webfiction World
Why Stitcher?
With Stitcher's free mobile app, you can listen to your favorite radio programs and podcast- anytime and anywhere you want. Stitcher's wide breadth of programming lets you choose from the latest In news, sports, talk, business, entertainment from the media industry's premier content providers. It's the easiest way to stay connect to your world while on-the-go. Receive news that's important to you in a format that fits into your busy day.
Additional Info:
Stitcher is SmartRadio. On-demand News, Talk & More for your mobile phone. Stitcher brings radio & podcast listeners a better way to listen to their favorite shows and helps them discover new content they'll by delivering personalized audio streams, on-demand, right on your smart phone.
Stitcher is also available in some car dashboard systems (GM & Ford)
Stitcher is available on SONOS systems
Over 5000 shows on Stitcher
Find new shows with the recommendation feature