About | Shows | Art | Contribute | Advertise | New?
Also Frequently Unasked Questions and
Frequent Things That Happen That Should Be Addressed is what you'll find here.
Regarding Promotional Material…
While we can appreciate a good hustle, please don't continue to tweet or email at us constantly. Specifically, please don't tweet or email us every time your webcomic updates. We may just passive aggressively block you. In general you can send Press Releases (read more below) to webcastbeacon@gmail.com or the appropriate show's email. Understand that all submitted materials are subject to review and critique.
Before adding any WCBN email address to a newsletter, it should be for a publishing company, collective, or other creative organization. Please do not add us to newsletters that simply say when your comic has updated. While you may add us unsolicitedly to a newsletter (using the appropriate email), we do reserve the right to request to be taken off any newsletter.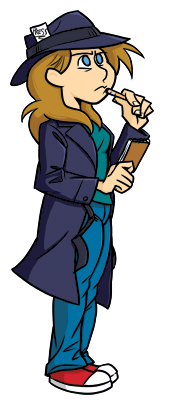 Comic or Fiction Reviews:
At this time: We are NOT looking for reviewers, and are NOT open for submissions for anything to be reviewed.
Kickstarter, IndieGoGo, Pre-Orders:
If you would like a Kickstarter, IndieGoGo, or pre-order campaign to be considered for a shout out, feel free to tweet at @webcastbeacon, or send a Press Release.
Comic of the Week Picks:
These are hand-picked by staff. While not an open-submission, you may try your luck by tweeting at @webcomiceacon to maybe get on a list.
Promotional Materials/Giveaways:
If you feel you must… You can email or post to us digital or physical goods at "bait" to do a review or post about it. Or even just to use as part of a giveaway. Due to the nature of this, we are not obligated to use any submitted material in a timely fashion, or at all (unless we state elsewhere). I'm sorry to say that we are not presently set up to handle reviewing on a regular basis at this time. In any case, use this address to send materials:
Fesworks, LLC
P.O. Box 22181 Robbinsdale, MN 55422
Charity Awareness
If you are a charity, or looking to support a charity or cause, feel free to send a Press Release to webcastbeacon@gmail.com or the appropriate show's email. We don't really have any sort of plan for such things, but we might post about and share such events/charities.
Potential New Crew Members
At this time: We are not looking for new crew members, though we are accepting original article submissions.
Affiliating with The Webcast Beacon Network
We do not do link exchanges. But we are interested in finding either blogs or podcasts to affiliate with, that would expand the creative corners covered by The Webcast Beacon Network. Areas oi creativity we would love to expand into: Music, Movies, Gaming, and Stand-Up/Improv. Do know that every proposal would be case-by-case; also note that we have a big emphasis our target audiences being that of creators.
New Podcast or Series Ideas
We are open to new podcast and series ideas, but not for US to make. If YOU have an idea for a show or series, and if we think there is potential: we could quite possibly work with you to create another Webcast Beacon Network property, or work with you as an affiliate.  Details, pros, and cons of going one way or another can be tricky, but you can email us at webcastbeacon@gmail.com to discuss.
Submitting Press Releases
We are mainly interested in webcomics or webfiction related content. From tutorials and convention reports to contests and challenges; Even book releases (of content that has had some sort of online presence), and all other items mentioned earlier on this page, should be submitted via Press Release style.
This is mainly for professionalism and organizational issues. Many times we receive emails (sometimes to the wrong address), that barely say anything worth following up. You must learn how to sell yourself and your product. Which means you should be able to create a brief, yet detailed pitch for yourself, your product, event, etc.
Format can vary, but please be sure to include:
Your preferred contact name (such as real name or pen name).
Your main website URL, and proper name for reference.
Other optional points of contact, including Skype ID or Twitter ID.
Any and all URLs for which the Press Release is specifically about.
Specify Dates: Date sent, Date of event, Due Dates, etc.
Specify subject/event clearly.
A good 1-3 paragraphs to properly detail everything.
Don't be boring. Convey your emotions on the subject.
"Press Release" must be somewhere in the email subject line to be properly filed.
Also, feel free to tweet at the appropriate show's Twitter account, to ask for retweets or other bumps for projects or events.
We reserve the right to not mention any press releases, book releases or other information, based on relevance, content, or target. We also may never reply to your press release, or block you if we feel you are abusing it. If there are charity drives, awareness, or other similar causes; notifications of fraud/theft, that involve artists or rather specifically webcartoonists or webfiction writers, we want to know about them too!
Send all Press Releases to webcastbeacon@gmail.com or the appropriate show's email. "Press Release: [brief and specific info here]" in the subject (or "For Immediate Release").
► Monthly Posts (Trial Run)
We will be doing a trial run of collecting press releases from over the month to be announced the first of each month. So if you have something coming in the month, submit early.
---
Please direct any unanswered questions to webcastbeacon@gmail.com.