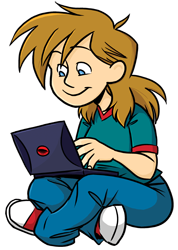 We are finally going to be opening up submissions for webfiction to be read on our Webfiction World podcast!
Right now, for Webfiction World, we select readings that are public domain, creative commons (allowance to use), or works with permission specifically given to us to use. We've recently had to go on hiatus, to figure out the next step for the show. Part of that is to propagate a new webfiction reading list; another part is to find 1-2 new readers as well.
If you have your own writings that you'd like to offer up for readings, you may submit the first chapter or two of an on-going, or completed, story; as well as one-off stand-alone works. We are looking at things that would take 15-25 minutes to read, which is about 3000-5000 words. (minimum of 2500 words, unless we pair short stories together in a single episode) The idea is to allow Webfiction World to produce new listening material, while also promoting the works used for new reading material.
For now, the chapters or short stories we read on the show should be available to read for free online somewhere.
If you would rather submit your own reading of your own material; audio quality permitting, we can work with that too.
Not all submissions may get used, per our discretion.
This will be a License to Use for us, for using your material on our show. Writers maintain all of the rights to their work. If you would later need to have us remove our reading (like per agreement with a publisher), we shall comply. We also do not sell ads on the webfiction reading episodes. We add some site info, a musical intro/outro, read the fiction, and tell people where they can read more.
Additionally, if you are interested in being a fiction READER for the show, email us for details. We'll basically need an example audio performance or reading from you (maybe 1-3 minutes), in order to gauge your ability to read a writing; as well as gauge the quality of the audio of your current equipment and abilities.
If you need access to a file sharing option, please use this link to sign up for a free DropBox account.
► Email Webfiction World at WebfictionWorld-at-gmail-dot-com, with "Reading Submission: [Title of Piece]" in the subject (or specific question(s)).
[display_podcast]
Podcast: Play in new window | Download